NEWER SYSTEMS START UP INSTRUCTIONS 1) Close hose bib or plug on back flow prevention unit on outside of house. YOUR SYSTEM ONLY HAS ONE BACK FLOW PREVENTION UNIT. SEE EXAMPLES BELOW FOR SPECIFIC INSTRUCTIONS ON THE TYPE INSTALLED ON YOUR INDIVIDUAL SYSTEM. AFTER FOLLOWING ANY SPECIFIC INSTRUCTIONS ON YOUR UNIT, CONTINUE WITH STEP 2 BELOW. 2) Turn on isolated water source in your basement. 3) Turn on system at controller unit and run all zones. REMINDER – Rain sensors can interrupt system, bypass if necessary. QUESTIONS? CALL US AT (920) 437-7990 OR EMAIL info@foxvalleyirrigation.com
Step 1 – Close Outlet Valve Handle and Inlet Valve Handle Turning Clockwise until perpendicular to pipe.
NOTE: Both Outlet & Inlet Valve Handles are shown in open position.  Turn Clockwise 90 degrees from position shown to close. 
Step 2 – Close Bleed Screws – Use flat head screwdriver to turn screws 90 degrees to the right to close.  NOTE: see pictures
Step 3 – Close spigot or insert plug.
Step 4 – Turn on water supply for system in basement.  Valve handle located near main water supply or near exit from building to back flow prevention valve assembly.
Step 5 – Open inlet valve handle.  Water will rush to bonnet, snapping closed the check spring for back flow. NOTE: Water will leak out of bonnet for a few moments until check spring closes.
Step 6 – Open Outlet Valve 
SLOWLY
  Water should rush to system.Step 7 – Turn on controller in garage and cycle the system, checking all zones for proper system operation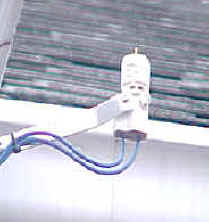 All FVI systems are put in with a rain sensor (shown left).  During a wet spring, you may need to bypass your rain sensor in order to check system operation. To bypass rain sensor turn cap so indicator on cap meets with indicator on body of rain sensor (much like lining up the arrows on a child safe medicine bottle) and lift to separate.  This disables the kill switch and lets operation of system.

IF YOU HAVE ANY QUESTIONS RELATED TO THIS OR HAVE ANY SYSTEM PROBLEMS OR CONCERNS
PLEASE CONTACT FVI, INC. – (920) 437-7990